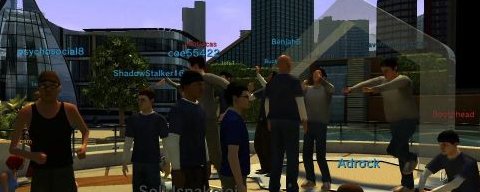 Playstation Home finally hit open beta yesterday. While it isn't offering much right now it seems likely that gaming companies will be adding their own spaces where they can advertise and sell Home related items of their own with potential for more. I wouldn't be surprised to see EA and 2K Sports with theirs sometime in the near future. Also you can set up clubs which can assist in launching games with members. I believe I can only host one club but that individuals are able to join a handful of clubs as a member.
I've set up the Pastapadre.com club in Home. It actually cost money to do so which seems ridiculous to me especially in that they plan on making it a monthly fee to have one. But anyway it should come in handy especially for when MLB 09: The Show releases and we can reevaluate it's value at that time.
If you would like an invite into the club make sure to leave a comment with your PSN name and I'll get it sent out. Being that there is a limit of 32 in a club I'll be monitoring activity in order to make sure that we have an active group involved and I apologize if I anyone gets left out.
Update: Alright well the inviting just isn't working. Everytime it tells me it is an invalid user name. So you guys will instead want to search the clubs and find it and then send a request to join. I'll approve it.