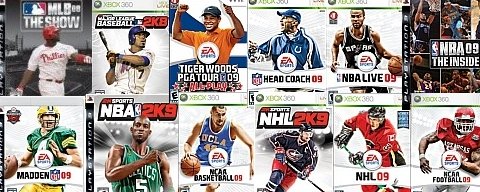 We always hear about the Madden cover curse and to a lesser extent a down or injury plagued season for a player is attributed to a cover he was on. But what about the players that have successful seasons after being on a cover? Last year Chris Paul (NBA 2K8) was probably the top performer amongst the cover athletes. So how is this year's class doing? Vote in the poll for who you believe to be the best cover athlete from 2008.
Ryan Howard – MLB 08 The Show: Finishing second in voting for the NL MVP he led the majors with 48 home runs and 146 RBI. Helped the Phillies to win the World Series.
Matt Ryan – NCAA Football 09: His name is being tossed out in MVP discussions. Has helped to turn around a last place team and gotten them into the playoffs with the possibility of a division championship and #2 seed still looming. 3,280 yards passing, 15 TDs, 9 INTs.
Kevin Garnett – NBA 2K9: Coming off the NBA championship the Celtics are now 27-2 and look like they could potentially break the record for most wins in a season. He is currently averaging 16.4 points and 9 rebounds a game.
Brett Favre – Madden 09: After looking like he would overcome the famed Madden curse his season hit the wall. From 9-3 to likely missing the playoffs with the most INTs in the league. The story has become the success of Chad Pennington and the mistake made by the Jets to bring in Favre.
Tony Parker – NBA Live 09: The Spurs sit at 18-10 which is solid considering the injuries they've been dealing with. Parker has missed nine games and averages 21.3 points and 6.6 assists. And this just in…he is still married to Eva Longoria.
Jose Reyes- MLB 2K8: The Mets choked again in 2008 though Reyes put up comparable numbers to the season that earned him the cover. He hit .297, with 16 home runs, 68 RBIs, and 56 steals.
Darren McFadden – NCAA Football 09: He hasn't had much of an impact this year as he has missed games or been limited by injury. He had one big outing with 164 yards rushing but outside of that hasn't had a game with over 46 yards. Total on the year is just 497.
Kevin Love – NCAA Basketball 09: Residing on one of the worst teams in the NBA, Love has come off the bench in the majority of the games and is averaging only 8 points and 8 rebounds. Still perplexing that he was chosen over Derek Rose and Michael Beasley.
{democracy:54}