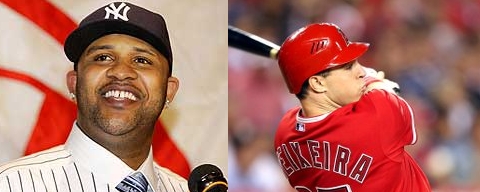 For those looking forward to the MLB 09 The Show and MLB 2K9 it is always interesting to evaluate the free agent signings and contemplate how big of an impact they will have. The rosters that will ship with the games lock in mid-January meaning we are nearing that point. Release day roster updates have become the norm though negating the significance of the roster lockdown dates.
Even when the Yankees are not the best team in baseball they always seem to translate as the best, or at least one of the best, in the video games. This is where team chemistry and pressure on the individuals doesn't really translate the same way it does in real life. Expect the Yankees to be a powerhouse in the games once again after their recent signings.
CC Sabathia (7 years $161 million), AJ Burnett (5 years $82.5 million) and Mark Teixeira (8 years $180 million) have been signed in just the past couple weeks. The Yankees now have the four highest paid players in baseball in Sabathia, Teixeira, A Rod, and Jeter.
When it comes to online play, where with the exception of leagues there is no incentive to using anyone but the best starting pitcher, the Yankees will certainly be the most feared and likely overused team. There will be other good teams but it'll be hard to match up to their lineup. Even though the Rays may have the better "team" as they did last year, there is much more room for error for someone using the Yankees than there is as the Rays. It's something that these companies should look at in all sports games. Finding a way to translate the significance of "team" over "individuals". It is a factor even in baseball which is primarily a battle between pitcher and hitter.
What team are you most looking forward to using in The Show or 2K9? Do you anticipate the Yankees being the strongest one after these big signings?