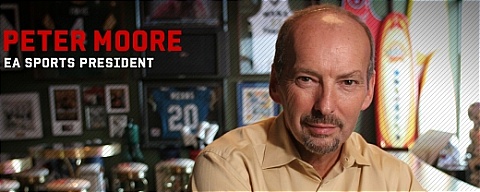 In his latest blog entry EA Sports president Peter Moore wonders aloud WTF (where the hell is FIFA) when it comes to Eurogamer's top 50 list of 2008. FIFA 09 was left completely off the list despite incredible sales, great reviews, and being held in high esteem with gamers.
For a site like Eurogamer it is curious that a soccer game wouldn't make the list, especially one as highly regarded as FIFA 09 or even PES 09 which remains popular. This is the case especially since Europe is where the sport is intensely popular and FIFA has sold like crazy on its way to over 10 million. To put it in perspective Madden won't sell near that much here in the US.
Obviously the blog isn't meant to be taken too seriously and it is refreshing to get an honest reaction on a subject such as top "whatever" lists which always illicit strong reactions. It does bring up the subject of whether sports games get enough credit or if they aren't thought of as highly simply because they release a new version every year. Games like FIFA 09 and NHL 09 have done enough and deserve to be viewed as more than just rehashes.