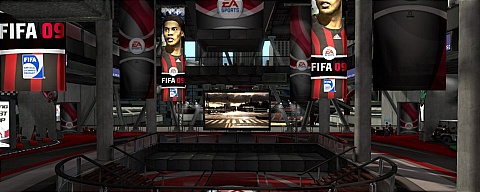 The general consensus regarding Playstation Home is that is has been pretty much useless so far, though it has the potential to offer some value in the future. One of the aspects that is expected to take off is with companies opening up their own spaces in Home. Today EA announced that they will be doing so this spring with the introduction of the EA Sports Complex.
EA worked closely together with Sony Computer Entertainment to ensure that the EA SPORTS Complex space within PlayStation Home would be a compelling experience for all EA SPORTS fans, with a space designed for both casual and hardcore gamers. Gamers will be able to play exclusive new EA SPORTS multiplayer games, meet and interact with EA SPORTS fans, view daily, weekly and annual leaderboards to see how they compare against the rest of EA SPORTS Nation, as well as watch trailers and other content from some of their favorite EA SPORTS games.
This is the type of support gamers are expecting and it sounds as though they are putting some real effort into offering unique experiences as well as tying Home into their standard titles. Hopefully though the games don't require waiting in line like the others in Home currently do.