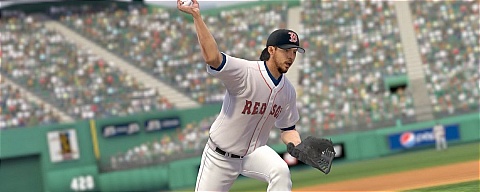 Gamespot has posted up a hands-on preview for MLB 2K9, though the hands-on part encompassed only a single inning. They also have four new screenshots for the game.
There's no jaw-dropping feature in MLB 2K9 that looks to reinvent baseball games entirely. What the development team has done, instead, is pay attention to the complaints about MLB 2K8 and directly address them. While the preview code we played still looked and felt early (with graphical hitches aplenty), producers told us the development aims to deliver a smooth gameplay experience running at a full 60 frames per second.
At the very least it is encouraging that 2K has been more open about this title than most of the games they produce. We have the features list, some screenshots, and now some semblance of a hands-on.  But as was discovered last year there is the potential for disinformation (such as the frame rate) until people get watch videos or get their hands on the game for themselves. Hopefully this year they won't hold the demo back and get it out before release as that would surely increase everyone's confidence about the game.