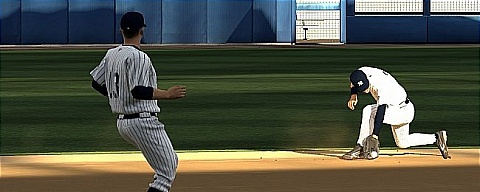 I'm heading out now to begin the relatively short trip down the coast to San Diego for the MLB 09 The Show Community Preview Event at SCEA. The current plan is to get a handful of hours in with the game today and then spend the majority of tomorrow playing as well.
As of now I'm still somewhat uncertain of what I'll be able to do at the event. If the circumstances present themselves I'll do a running live blog from the studio for a short period of time such as I did while at the NCAA Football/NFL Head Coach/Madden event last year. Otherwise I'm expecting to do a write-up each evening (probably after 10pm PT). I should be free to discuss most everything about the game, however we are not allowed to take pictures or videos while there.
Remember to follow me on Twitter. Not only will I be updating throughout my time there but I'll also have some pictures tied in (again not of the game but of various surroundings or people). Being that I'll be preoccupied by the event I may only be able to update the site in the mornings/evenings so keeping track on Twitter is the best way to know what is going on at a given time as well as what I have planned to come later.