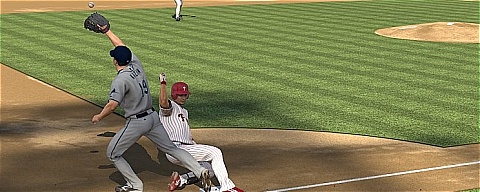 Another long day with MLB 09 The Show is complete. This time around my time was split between exhibition games, Road To The Show, practice drills, and grabbing screenshots and some video highlights. I'm not sure when I'll have those screens and clips back from SCEA but I'm hopeful that will happen by the end of the weekend.
Out of those things about all I can discuss right now is the gameplay. The others will have to wait for another day. If you missed the first report from the event make sure to check that out here. Continue on for some more general thoughts and attempts at answering a few more questions.
While I mentioned the exceptional job done on lighting this year I haven't mentioned how nice the crowd looks. The models are varied enough, they are active, and seem to respond well based on the situations. You'll also see fans walking around the stadium in areas they they flow through in real life. Occasionally they'll be seeing going up/down the aisles and not just fans but also vendors.
Users can draw walks if they are patient. Seemed to happen a little more frequently than last year. Wearing pitchers down and working the count is critical to success.
Over 700 new game play animations, over 400 new presentation animations, and over 150 new personalized pitcher and batter animations. There is a new tag system with over 100 tags to cover all situations. Obviously I didn't get to see many of these but the animations that I did witness were all really natural and looked good. Having so many new ones should help to keep the game feeling fresh.
A new element to consider this year is the hot shot misses and bobbles. Those make things interesting at times, now not everything is routine. Those are really neat to see also.
I played a game on legend difficulty just because I had to see how I would fare against it. I actually came out of that in better shape than I had anticipated. After giving up five runs through the first three innings I was able to go the last six without allowing another run. So I felt pretty good about that. What did frustrate me was getting one-hit. In the game I was the Brewers going up against the Rockies. Aaron Cook went the distance giving up just the one hit and striking out 12. I was having success making contact but the timing window is very small in that mode. It was a fun challenge though.
Overall Rating: #6 Angels – #7 Rays – #8 Tigers – #9 Twins – #10 Reds
I'll be posting up the rankings for each team (batting, pitching, defense, overall) in the near future.
I saw what seemed to be a little more variety in user scoring. I still feel like maybe home runs are accounting for a higher percentage of scoring than should be seen. But I think as people get acclimated to the game it becomes easier to get those hits and potentially string them together. I started to see some of that by the end of the day.
Asked about the demo but can't give out any details on it other than it will be based off a build that is several weeks behind what we played.
I didn't see any option to change the season length in franchise mode.
From what was stated about fatigue in franchise, you can continue to play guys through that and the hit they take due to it is just minor. However players with low durability ratings will be more apt to getting injured.
It's nice to be able to hit up on the d-pad to access the bullpen and lineup moves. Unfortunately you still need to pause to see pitcher's energy levels or pitch analysis.
I didn't figure out if the base running controls are any different this year. I was only able to control all the runners at the same time.
Beashore is included in the name database.
Noticed that maybe there were a few too many passed balls. Nothing all that dramatic though, just seemed to get probably two a game on average.
In the coming weeks I'll be able to talk about some of the other areas of the game. Until then if there is anything I missed feel free to leave a comment. You can also check out the thread on OS where the others who were in attendance continue actively posting. To sum everything up I was very impressed with the game. While nothing stood out being a big surprise most everything has been improved upon since last year. The result likely will be satisfaction for fans of The Show series.