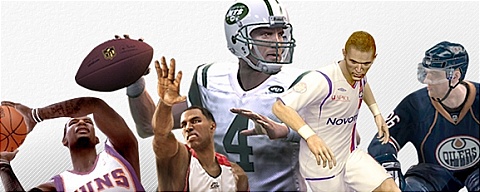 Last Friday EA Sports launched their community based blog which kicked off with the first Madden 10 news as well as a great deal of coverage around various events leading up to the Super Bowl. Community Manager Will Kinsler was gracious enough to answer some questions related to what is driving this new initiative at EA.
We go back a ways, but for those people out there who aren't familiar with you introduce yourself and your role at EA Sports.
I'm the community manager for EA SPORTS at the Tiburon studio, so I cover all of the titles developed here (Madden NFL, NCAA Football, Tiger Woods PGA TOUR, NASCAR, NFL Head Coach, etc). We also have a CM who covers the EA Canada titles. It's a pretty versatile position because we work with just about every group internally from the dev teams to marketing and PR to our EA SPORTS brand team.
We spend a lot of time reading forums and interacting with fans, helping create content on our websites, and addressing any questions the community has. We're also the people who organize the in house EA SPORTS community events, which will continue to be a part of our community plans this year.
You just launched an EA Sports community blog last week. Can you explain a little of what that is all about?
Sure. For us, the Inside Blog is a new touch-point for interacting with fans. We want to do more to let people "peek behind the curtain" and see what EA SPORTS is really all about. We talk a lot about getting community feedback and listening to fans, and I feel like we our community team and our dev teams know our fans really well. But in order to have a genuine relationship with the community, the fans have to know who we are too. The blog is going to help make that happen.
How did the idea for a community blog come about?
It was born out of the need for a specific kind of platform to be able to interact directly with fans and post the kind of content we want to show the community. There are a lot of things we can do to reach out to our community but we also need the right kind of vehicle to do that. It's important for us to create destinations we can drive fans to for that kind of back and forth. This is a single step of what will be a lot of steps in the near future in terms of creating those destinations.
How often is it going to be updated?
All the time. A lot of our dev teams will be using it in the near future as well as the community team. If you don't come back every day, you might miss something. That's the kind of volume of content we're working toward. This includes the weekends. Every day of the week you should be able to hit the page and see something new. We're just getting started, but it won't be long before we have a ton of content for everyone to see on a regular basis.
What kind of insight into the games will you be providing beyond what has been done in the past?
That's what I think is cool about the blog. It is very flexible in terms of the content, but also makes it easy to see the fan reaction and feedback. So rather than just list out 10 things we think we can talk about, we also want to hear from the community what it is they want to know. The game teams definitely have plans when it comes to things they are excited to show everyone, but it's important for fans to know that they can help us decide where to steer that conversation.
How are you planning on tying in the blog with various other community based activities?
One area where you can already see what we've done is with event coverage. We covered Madden Bowl and the Gillette-EA SPORTS Champions of Gaming finals live on the blog and showed fans some of the behind the scenes action of what happened at those two events (direct links below). It's an inside look at some things fans don't always get to see.
You can imagine how this might be applied to something like a community day. Throughout the years we've done these community day events and I know our hardcore fans have a lot of questions about what really happens there and what the value is to the community. We want to remove some of that mystery and give everyone an opportunity to be a part of that experience as opposed to just the handful of people who come out to our studios to give the game teams feedback.
Madden Bowl coverage
Gillette-EA SPORTS Champions of Gaming coverage
You've stated the blog isn't just a typical marketing initiative. In what ways will we be seeing that demonstrated?
This is something our Madden NFL '10 Lead designer Ian Cummings was quick to point out in his first post on the blog. He's absolutely right. We're going to give the game teams an outlet to be able to share some of the things they are doing, but there are a lot of different things we'll touch on via the blog. Doing something like organizing a night where fans can hop online and play some of the EA SPORTS community team isn't marketing oriented, it's community oriented. We already have title websites where people can learn information about our games. Our online community destinations are more about interacting with fans, showing them some behind the scenes stuff they might not normally see, and improving and extending their experiences with our games.
Ultimately how do you see this blog benefiting the gamers out there?
Our hardcore fans are very clever and they know the difference between genuine community interaction and fluff. I can talk all day about a million new and cool things we will do on this blog, but fans are going to make that decision for themselves about whether or not they think it's something that benefits the community.
I do want to emphasize that this blog is only a part of what we're doing this year to engage fans. The reason I keep talking about these various steps and stages is that we've got a lot of plans for interacting with fans in new ways and this blog is just one part that. I hope that fans will check out the blog and follow us as we open the doors to a number of new experiences throughout the year. And don't be shy. Tell us what you think. That's what the comments section is for and that's why we have so many other points of contact for fans to reach out to the EA SPORTS community team. Here are some other places you can reach me…
– PM me on EA SPORTS World. My name there is raczilla and I'm not hard to find.
– PM me here on the Pastapadre.com forums.
– Hit me up on Twitter. twitter.com/raczilla (I always reply back there)
– email me at footballcommunity@EA.com (we don't get many emails here but if we did I'd certainly check those out)
– My aim is RACMM81 (admittedly I'm not on all the time but I like to talk on here as much as I can)