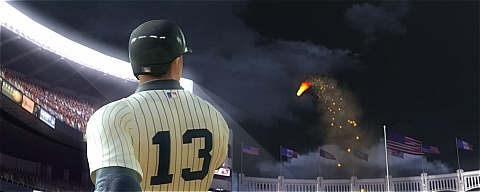 With 2K Sports holding the third-party MLB license they have tried to squeeze the most out of it by branching out through several off-titles. The BIGS, MLB Front Office Manager, MLB Superstars, MLB Stickball, MLB Fantasy All-Stars, and MLB Power Pros (as distributor). What has frustrated me as of late is that they haven't followed up with a sequel to The BIGS which is a game I enjoyed immensely, sold relatively well, and had a lot of potential for ways to be even better.
Recently EA Sports President Peter Moore stated that the company doesn't have anything in the works for baseball. I had hoped that at some point they would look to get themselves back in. Something along the lines of a fully customizable or MMO style offering, even if that meant on the PC given their success with that model overseas. The previous NCAA Baseball idea (utilizing the MVP engine on PS2/Xbox) didn't turn out well with little interest seen though the low sales and in turn low effort and resources put into the sequel. With the absence of an arcade title for the past two years that got me to thinking. Why don't they find a way to fill that void?
The blueprint could be the recently released 3 on 3 NHL Arcade. Sold for $10 and only available as a download off XBL and PSN this has been a pretty big success garnering some good response and topping both sales charts. After a rough start to the EA Freestyle label it would appear they got something right with this model and accomplished what they had set out to do by creating a fully accessible game that was just about fun.
Though EA Sports does not hold any licensing rights to the MLB what is interesting about NHL Arcade is while they did have 40 real NHL players that didn't result in what felt like an NHL licensed game. They did not have real teams or jerseys (just red vs blue) and the players were basically identical within their respective categories (Fast, Strong, and All-Around). You really couldn't even separate who was who during gameplay. It was basically just like you were controlling generic players out there. They had to do those things in order to get the download below the max size allowed but that is why I feel the same could work for baseball.
The issue might stem from NHL Arcade working off the same engine as NHL 09. In this case it would seem EA would have to develop from scratch, and that might make it not feasible at least at that $10 price point. I would hope they're investigating different options such as this though. As they go forward we'll probably see more of the arcade style titles being offered in the style and manner that NHL Arcade was. I just hope someone produces one for baseball, whether it be The BIGS 2, or an attempt at one by EA or SCEA.