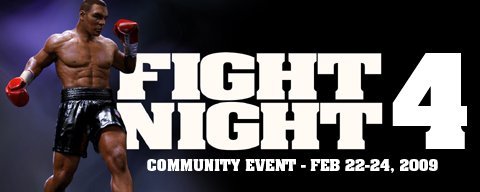 The day has arrived with numerous website representatives in attendance at the EA Canada studio in Burnaby BC for the Fight Night Round 4 Community Event. Throughout the day I'll be updating this posting with the latest links to content or any information coming directly out of the event.
Given that the game is still 4+ months out from release we won't be seeing gameplay footage and the details the group will be able to share may be pretty limited. However EA is attempting to provide by far the greatest access ever to an event such as this. That means they'll be updating on Twitter, posting on the Inside EA Blog, and even streaming video of the ongoing activities live.
The site is being represented by long time associate and forum moderator Armando "Moz" Pioquinto. He'll be attempting to leave some updates on Twitter and will report back from the event in the coming days.
First Update: Video from Griffin's Boxing School where the group was joined by Sergio Mora and Sugar Shane Mosley. Some Q&A pictures are here. Comments from the attendees and first gameplay video will be out next week.

Twitter Links
Moz pastapadre Dewiel sk88z Raczilla Mamboking PrimeTimeSA Closphoto sdrotar