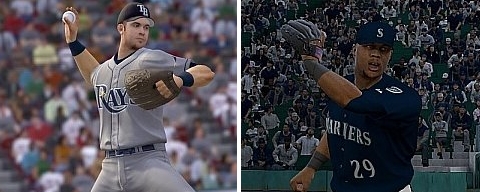 I'm really enjoying creating the HD videos so I decided to do something a little different and make one that put MLB 09 The Show and MLB 2K9 right up against each other. This one isn't in full HD since I had to convert it but it still looks pretty good. I took at bats from Jimmy Rollins, Ryan Howard, and Carl Crawford from the pitching perspective so you can compare graphics and signature stances among other things.
Actually an unintended result of the video is displaying one of the problems with 2K9, that being the CPU swinging at most every strike. Even though I was just messing around you can see the counts getting deeper with the examples from The Show vs the ones from 2K9. It is a pretty stark difference when going back and forth between the games.
Also it looks like a lot of sites are receiving their copies of the 2K9 today, I won't know if my copy has arrived until I get home this afternoon. If it has then I'll start up full coverage tonight. Continue on to view the comparison video and leave your thoughts in the comments.