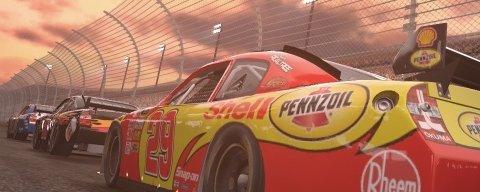 An interview on Sporting News brought into question the plans for EA Sports' Nascar branded titles. Since then First Cuts and ESPN have been able to confirm that there will be no Nascar 10 released. The only Nascar branded game this year will have been Nascar Kart Racing for the Wii.
NASCAR Kart Racing on the Wii is the only NASCAR-licensed videogame that will ship this year from EA SPORTS. Due to the family-friendly atmosphere of NASCAR, we felt that a title developed exclusively for the Wii platform (NASCAR Kart Racing), was the best scenario for the NASCAR racing video game franchise and fans of racing alike.
I don't know if this can be considered a surprise but for the yearly release cycle that everyone has become accustomed to. Nascar had not been a big seller and there really doesn't seem to be much potential to grow the game's fanbase at least in a traditional way. No word if this is just the series taking a year off or if they are done with producing Nascar simulations. There is also discussion from the Nascar side on whether they want to open up the licensing to other developers instead of sticking with the exclusive that had been owned by EA.
It does make a lot of sense now looking back on why Tiger Woods 10 was pushed up to June. Nascar's slot had been falling in June and now Tiger can take its place ahead of the NCAA Football and Madden. It also increases the liklihood that Fight Night Round 4 will arrive in June.