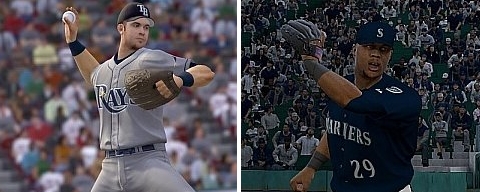 As a baseball gaming fan it was frustrating to have both games last year struggle with online play. MLB 2K8 offered arguably the worst online play for any sports game this generation and MLB 08 The Show was only slightly better as performance was extremely inconsistent.
So going into this year both 2K and SCEA have discussed how they expect online to be better. In the case of MLB 09 The Show I still had the sense that there wasn't much confidence that they had actually fixed lag issues, though they have stated lost frames were a big part of the issue last year and that was specifically addressed. For MLB 2K9 there wasn't much to go on as all of the 2K Sports titles have really struggled online since 2K8 and 2K didn't offer any specifics on what had been worked on.
We're starting to see some online impressions making their way out now as various people get their hands on the games. For 2K9 things are encouraging. There haven't been any reports of the terrible lag that inflicted last year's game. Home Run Derby has also been added. One flaw though is that 2K has not done anything to prevent multiple starting pitchers from being used in each game. It also appears that the games are slanting heavily towards high scoring affairs. But despite all that it certainly is a good sign that the experience will be better compared to last year.
On the other hand The Show is already seeing lots of mentions regarding lag and choppy gameplay. In 08 there would be times where you would swing and not see the bat swing or the ball even come in, it would just cut to the field where the ball was then in play. Sounds as though instances similar to that one are reoccurring. I've seen discussion around lag and disconnects in multiple forums. Really online play is the only thing holding The Show back from being considered the best sports series of this generation. Such a critical portion of the game being so severely flawed though can not be ignored. Apparently there is a patch coming at the end of next week that will address some online issues, but it is unknown if that will affect performance specifically.
Of course a big part of how these games handle online will come post-release once the wave of consumers are connected. I may be receiving The Show today and if so I will look to get some first hand thoughts with online amongst other things. I'll have a full online play report that analyzes performance, options, and features for both titles next week.