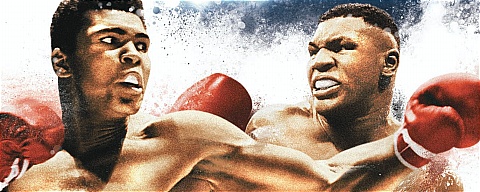 EA Sports has finally solidified the release date for Fight Night Round 4. The game will be out on Tuesday June 30th. Interestingly that falls on the birthday of Mike Tyson who is the centerpiece of this game. As expected Tyson and Muhammad Ali share the cover.
The release date makes sense in that it falls in between dates for other EA Sports games that were already known. Tiger Woods 10 and Grand Slam Tennis are coming on June 16th and NCAA Football 10 is out July 14th.
Update: The release date may end up being June 30th but EA has informed me that it was posted in error. So no release date is official as of yet.
I like the style of the cover with the background providing somewhat of a gritty feel. Which incidentally is how all the EA Sports covers will look this year. But FNR4's would have been much better with just one guy instead of both. Are they supposed to look like they're fighting each other? If they are it looks awkward. If they aren't it still looks like that's what they were going for.