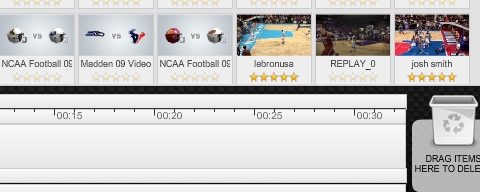 On Thursday EA Sports World launched a video mashup/highlight reel feature to the website. This is something that was actually alluded to in the survey I wrote about a month ago. With it you can string together highlights you have uploaded to the website and utilize some of the audio and visual effects that are provided to create a unique highlight reel.
All highlights that you currently have stored on the website will be available for use and there is no restriction on using clips from different games in a single reel. The screenshots that have been uploaded to the website can even be added into them. Not only can you use your highlights but you can search through and use ones made by other people. There are various visual effects that can be placed on a clip, a library of music to utilize, and a couple different sound effects and voice overs. Hopefully EA continues to expand on what is being offered for use. The sound effects and voice overs particularly are thin on options.
This is a pretty neat feature especially considering they aren't charging anything for it. It will be most useful for those who are presenting running dynasties/franchises but will be a fun feature for everyone else. I'm curious to see just how creative some of the reels that are made turn out. I spent just a couple minutes messing around with it and created a basic one. Continue on to watch that and leave your thoughts in the comments.