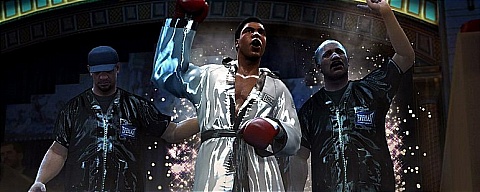 It's been a long three years since we were blown away with the beautiful graphics of Fight Night Round 3. After taking a look at the latest installment of the Fight Night series it seems well worth the wait as the game is similar to its predecessor's release on the (at the time) newly released Xbox 360. There's something really intoxicating when watching this version of Iron Mike stroll down to the ring and now that I can add any track I want it's going to be nothing short of epic.
The main thing or word that I would use to describe the difference in the two games is fluidity. Don't get me wrong, FN3 was plenty exciting and I had some epic fights but if you compare the two games side by side (as we were able to) you get to see what we were missing last time out. Gone are the days of the block, parry, throw bombs to the same part of the face. Repeat. The game got stale for me, and that must have been in part to the boxers being limited in what they could do.
Another big difference in this years game is that it's running at 60fps versus 30fps in FN3. That in itself is enough to make this the most stunning game to date. Keep in mind the first time I got to see the game was the mythical match up of Iron Mike vs. The Greatest Ali. Both characters were life-like in their respective ring entrances and Tyson's fast combinations made me think I was back in 1988.
The physics engine is phenomenal and is the reason for the difference in fluidity. The punches in FN3 used to only hit one designated area to the head or the body. This time around the punches are actually being tracked and that allows for punches to be landed pretty much on every part of the body. I saw a uppercuts from Tyson graze Ali's head on several occasions and Ali would also misfire if Tyson was inside because it would negate his massive reach.
Finally the crowd actually looks alive this year. FN3 offered us two or three different types of "fans" and it appeared that they were at another fight rather than the one we were playing. The ring entrances have been vastly improved as FN3 seemed to use the hip hop genre for every fighter no matter what era they were from. If you still don't like what EA has to offer use the custom track feature to make the game even more real. I am very impressed with the alpha build of this game and the Fight Night team just seems to have their mind set at finally putting out a boxing game that FEELS like boxing.
I look forward to releasing more information on Fight Night Round 4 very soon, so stay tuned!
Thanks to Moz again for his continuing coverage out of the Community Event last month and check out the screenshot gallery for three new images from FNR4. -PP