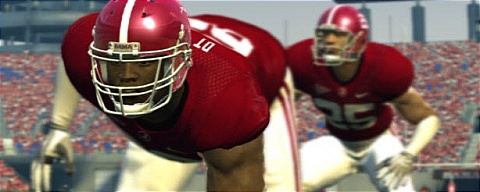 Earlier this evening I speculated that the "Every Game Counts" motto for NCAA Football 10 would tie into a big new feature or mode. What that is has actually just been revealed in the press release announcement for the game.
True to the tradition of the award-winning franchise, NCAA Football 10 continues to push the bar on innovation with new online modes. NCAA Football 10 brings the excitement of college football to fans across the nation like never before with its newest feature, Season Showdown. In this new mode, every game counts as fans declare their loyalty to a favorite school and give the ultimate show of support in a nationwide competition. All college football fans will have an opportunity to participate in Season Showdown, as credits not only accumulate in-game but players can also earn credits for their school via new web-based games. Millions of college football fans around the country will be on a mission to prove their school is number one with NCAA Football 10's Season Showdown.
I suppose this will be an interesting thing to follow and passionate fans of particular schools will likely work hard to represent them. However this doesn't seem that exciting to me. Multiple games have had variations of competitions to represent teams online. It will have to be explained in more detail what makes this more engaging than just trying to help your favorite school earn meaningless bragging rights.