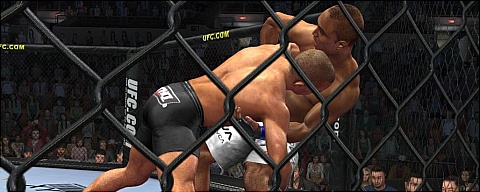 Gamespot is now offering a look at the entire roster being included in UFC 2009 Undisputed. You can check out the list here. With 82 fighters it would be difficult to complain about anyone who may have been left out. They definitely did a good job of securing who they needed to in order to make this offering as attractive as possible as they attempt to build a yearly or bi-yearly franchise.
Who and who did not make it onto the final roster for UFC 2009 Undisputed was a collaborative effort between the development team here at THQ and the UFC. One of the best parts about working on this project is the great relationship we have forged with Dana White, Joe Silva, Don Gold and everyone else over at the UFC. Being able to draw upon their knowledge of who was going to be joining or leaving the UFC in the future, or who the new exciting prospects were before anything had been announced to the public, allowed us to create not only a roster of who we personally wanted to see as fans, but also represent who would be the most relevant by the time the game was released.
Not being a close follower of UFC I only recognize a handful of names. Who are you most excited about from the roster? Let me know in the comments.