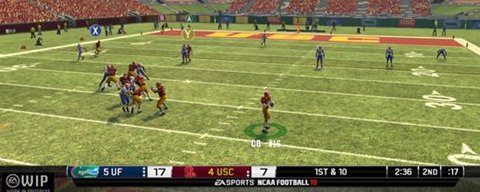 Yesterday brought some new information on NCAA Football 10. There will be four different cover athletes announced in a month and on April 9th the first look at Online Dynasty will go out. We also got details on the Season Showdown online mode.
Madden 09 had the "action cam" which was good in theory though it presented its own drawbacks. Basically the idea is to keep all the players on screen. It looks like NCAA is going the same direction as the latest Inside EA Blog posting details the new camera system that has been implemented.
One aspect of the new tech is the camera's ability to frame all of your receiver options on-screen as much as possible.  What we do is have the camera behave like a turret on your head and as you and the receivers move on the field the camera will focus at a calculated point on the field (called a proxy target) that will give you the best vantage point.  We are able to add weights on the calculation that can force the camera to pay more attention to the QB's location, the receivers, or even the player going out for the screen pass.  In addition, we can lock this point to be a set distance from the line of scrimmage so that its location keeps a steady position instead of flying up, down, and all over the field as your receivers move in real time.
It is comforting to know that the group at the community event tomorrow will be providing feedback on areas such as this. Changing the perspective too drastically during a play could be disorienting but it is important that they find a way to keep all the players in view at all times.