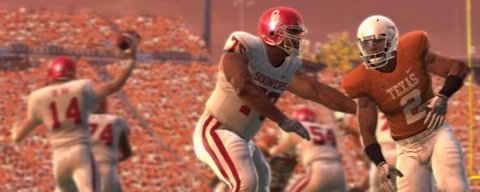 One of the first reactions to the earlier screenshots for NCAA Football 10 was concern over how it appeared to have some of the same flaws as previous years. There was no sense of a pocket or pass rush evident and the QB was able to scramble out at will. Granted those screens were intended to show off something else completely and are early work-in-progress looks at the game. Still though it is good to see EA respond with a blog posting concentrating on the formation of a pocket.
We are still in the process of working how often the defender vs. the offensive line will win. Like how much does Finesse Moves factor against Pass Block Footwork? Or how often will AI defenders attempt special moves? And a number of other tuning issues. It is a high priority to the team right now to ensure our line play is balanced on both sides of the ball.
It appears this is a bonus in addition to the scheduled weekly blog on Thursday. You can check out the full posting on the Inside EA Blog here. It includes four new screenshots and explanation of what is being displayed as improvements within them.