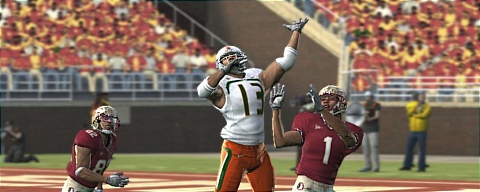 This week's Inside EA Blog posting for NCAA Football 10 describes new additions to the game in Player Lock and Defensive Assist. You can check out the full article here which includes a video showing a Player Lock camera shift.
In an effort to help players on defense we'd also like to introduce Defensive Assist. By pressing the A button on Xbox 360 (or the X button on PlayStation 3) your player will move to his correct position at any given time. For example say you are not exactly sure where the corner you are controlling should be playing his zone; all you have to do is press the A button and the player under you control will move to his assignment on the field.
While this isn't the most thrilling update it does make me start wondering whether this is a step towards an eventual Online Team Play mode for the game. Both of these features would be beneficial in such a mode. While that may not be coming this year having these could help acclimate users to that style of playing the game just as Campus Legend mode has done.