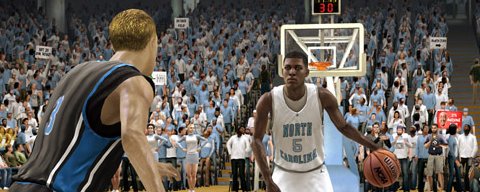 After collecting over 200,000 votes it's North Carolina that comes away with the distinction of having the toughest place to play in college basketball. The Tarheels will be rated as such in NCAA Basketball 10 with the top 15 having been determined through the voting.
"College basketball fans have spoken and they have determined once and for all the most difficult places to play in college basketball," said NCAA Basketball 10 Producer Connor Dougan. "Now we are going to design a feature that authentically reflects how difficult it is for opposing teams to play and win at these venues."
While I was not a big fan of NCAA Basketball 09 I do appreciate that they have made noticeable effort in areas such as atmosphere, team play styles, and home court advantage. It looks like this new feature will work to enhance all of that. This news also makes me think that Tyler Hansbrough has become the leading candidate for cover athlete.
1. North Carolina
2. Clemson
3. Xavier
4. Pittsburgh
5. Duke
6. Kansas
7. Louisville
8. Syracuse
9. Tennessee
10. Arkansas
11. Maryland
12. Illinois
13. UCLA
14. Florida
15. Texas