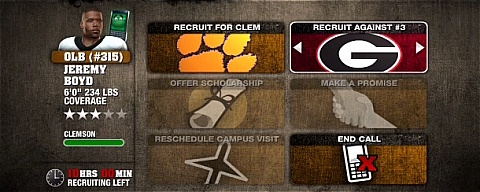 After the revolutionary introduction of Online Dynasty in NCAA Football 09 the first look at what is being prepared for the mode in the upcoming release has been eagerly anticipated. Today that first look was presented through a video that has been posted on the official website for NCAA Football 10 and which I've included in this article.
Discussed in the video are the custom conferences, the tuning of simulated stats to provide more realistic output, and fixing of the glitch that prevented users from being able to convince players to stay. The biggest addition is the competitive recruiting aspect, and you can also see an updated interface for how the dynasties are presented.
Lets hope the menus aren't as sluggish along with improved loading times. Navigating the menus has been too time consuming and frustrating, something that isn't nearly as much an issue in other EA Sports offerings. It also takes several minutes to actually reach your online dynasty because of the lengthy process and the slow loading.
I know I probably shouldn't feel this way considering my adoration of the mode in 09 and how much I'm looking forward to it in 10. But this video left me feeling a little disappointed. It was basically an overview of franchise mode with very little specific to the online element of it and probably should have been advertised as such. I was hoping for another big element of interactivity to be included, something along the lines of a spectator mode from within the dynasties. Despite all that I'm still excited for the game and that is primarily due to online dynasty.
Continue on to watch the video and leave your thoughts in the comments.