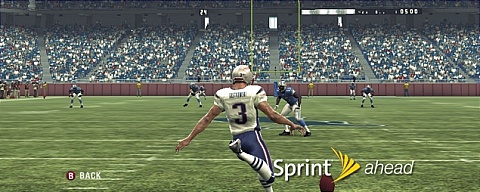 Today a new article on the Inside EA Blog focuses on the addition of Adaptive AI. This is something that will be seen in both Madden 10 and NCAA Football 10. This is certainly something that has been long overdue and will hopefully lead to a more realistic simulation whether that be offline or online. You can check out the full posting here.
First and foremost, we hope that our Adaptive AI will add a ton of replay value to our games this year by forcing you as a gamer to continue to mix up the way you play to have success. Football is a very complex game of chess – and this is a great first step towards re-creating that. Secondly, we hope this feature will continue to show our commitment at the Tiburon studio to creating a realistic simulation of football, as it exists in both NCAA Football 10 and Madden NFL 10.
Similar to a few weeks ago for NCAA the Madden 10 Community Event is taking place today. No new details are expected to come out of that from the attendees immediately however again it is a great opportunity for the community to impact the game given it's still early enough in the development cycle to do so.