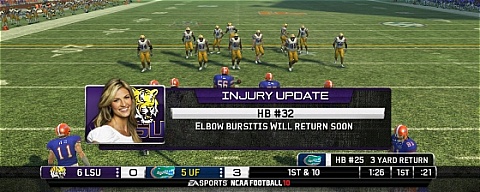 The news for NCAA Football 10 has been somewhat lackluster but that feeling may change after the announcement today that Erin Andrews will be included in the game as a sideline reporter. She already appears as the third member of the announcing team in the NCAA Basketball series.
Erin Andrews is the newest addition to the NCAA Football 10 broadcast team, joining Kirk Herbstreit, Brad Nessler and Lee Corso in a game that envelopes the excitement and pageantry of college football at its best.  Including Andrews as part of the NCAA Football 10 broadcast team complements the franchise commitment to offer the most authentic college football experience available on any gaming platform.  Andrews has served as a sideline reporter for ESPN's College Football Saturdays since 2004.
It is also mentioned that Andrews will be a part of an as-of-yet unannounced mode in the game. There is a good chance that is the Teambuilder mode that was noticed on the main menu screen. That could be a sign there is more to it than just being a new name for Create-a-School as previously speculated.