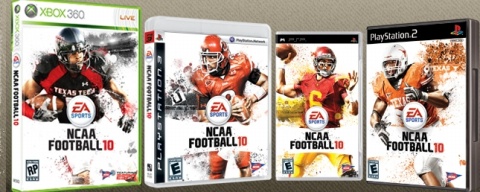 This morning EA Sports announced the final cover athlete for NCAA Football 10 as Texas Tech WR Michael Crabtree. He will be on the cover of the Xbox 360 version and joins Brian Orakpo (PS2), Mark Sanchez (PSP), and Brian Johnson (PS3).
Also there is now additional information on the Teambuilder mode that had been speculated upon. As expected it is deeper than just simple create-a-school.
NCAA Football 10 introduces TeamBuilder, an all-new, online create-a-school feature that will enhance the user's ability to produce personalized content. With the capability to upload logos and numerous customization options for uniforms, fields, rosters, and much more, TeamBuilder gives users the opportunity to design completely original teams with infinite possibilities. Plus, preloaded logos for several Football Championship Subdivision schools will help users create authentic teams for NCAA Football 10. With its intuitively designed online database that is searchable across several fields, TeamBuilder allows users to share content with ease. A football fan's dream, TeamBuilder will enable users to experience the excitement and pageantry of college football, defined by their own personalized creations.
This is something I'll attempt to get more information on today. Create-a-school was desired by many and it sounds like they've taken it a step further than anyone expected by adding the online sharing aspect. Keep an eye on and follow my Twitter throughout the day.