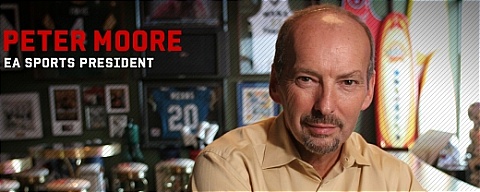 In an interview with Edge which can be read here Peter Moore discusses a variety of topics including the PC market. Of note is that they will no longer be producing disc based offerings for the PC.
We really want to keep sports an important part of the portfolio that's available to PC gamers, but the business model right now, shipping a physical disc for the PC, simply isn't working for us. And along the context of making the right choices with our resources and making sure that we're delivering a return on investment for valuable employee time, I've got to find innovative ways to bring our content to life on the PC and online is the way that that's going to happen.
I've been prediciting for a long time that the PC offerings from EA in the future would be download only. Likely free and supported by microtransactions and/or advertising. That method has been extremely successful overseas.
Interestingly Moore also talked about the possibility of an MMO and the restrictions that come with league licenses. While there are many benefits to having the license it also provides the leagues with more control over how their respective sports are represented in the games.
Some of the challenges quite frankly are licensing approvals. Do you want it to be all sugary and nobody does anything wrong or gets into player disputes, and no player gets in trouble at a nightclub at night? If you want it to be that way I might get licence approval, but if you want it to be a bit more realistic then I might have a challenge getting licence approval. So I have to fight that fine line of making sure our partners feel comfortable with that content versus types of game experiences they don't feel comfortable with.
Update: Another interview, this one with VG247, confirms my earlier suspicions.
The exec added that announcements regarding EA Sports future policies on PC gaming would be made in the "next few months," but outlined that his PC games going forward would likely follow a micro-payment model. "You're going to see us take a lot of our learnings from what we're doing with our games in Asia, where I'll give you the game for free, or a certain level for free," he said.