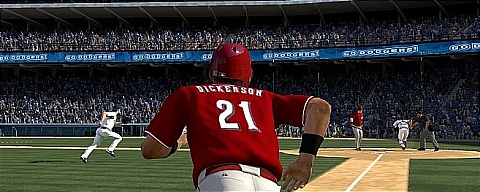 A new patch (1.06) came out earlier this week for MLB 09 The Show that attempted to make adjustments to the schedules and start times as well as fixing a host of small bugs. However from monitoring the response there are some major problems with the patch that have significantly disrupted the community.
The biggest issue is that any franchise prior to the patch will not work after downloading it. This could happen with Road to the Show careers as well. Franchises and RTTS would need to be started fresh after the patch in order to prevent an inevitable crash. There is also a problem with post-game highlights and the Replay Vault. That one though is apparently is being fixed with a follow-up patch next week.
This is a required patch, at least for anyone that wants to play online. While it can be deleted if so desired it is likely that most consumers are trusting the download only to find it has ruined there franchises. How something so severe could get by the testing process is certainly puzzling. The hope would be that SCEA would pull the patch which would then revert everyone to re-downloading the prior one. This has been done before with other games. They could then work on fixing it so that existing franchises could continue. Unfortunately it doesn't appear that they are going to take that route and instead are staying quiet on the topic.