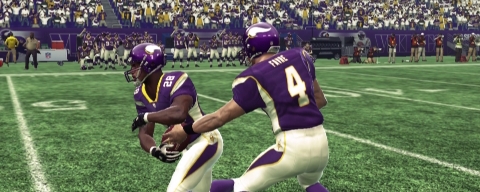 Despite hope that Brett Favre would actually fade out of the spotlight this year it appears the inevitable return has been set in motion. The first step was when he requested (twice) for his release by the Jets. The benefit of the release was that it made him a free agent clearing him to sign with another team. Now though even more evidence that he is strongly leaning towards a return as he is set to meet with Minnesota Vikings coach Brad Childress later this week to discuss coming back to play.
Last week at the first indications of a possible return I posed a question to Donny Moore on Twitter regarding what Favre would be rated in Madden 10. His response was that he would fall between 75 and 85 depending on how he looked in camp. Favre finished Madden 09 rated an 88 and given the stretched out ratings it seems likely that he would fall close to or just below an 80.
The Vikings would seemingly become one of the most dominant teams in Madden if they were to add Favre. Despite the more reasonable rating this year he would provide an instant upgrade over Sage Rosenfels and Tavaris Jackson. He still has a strong arm which would prove beneficial with speedsters like Bernard Berrian and Percy Harvin on the outside. That would in turn open up the running game even more for Adrian Peterson and Chester Taylor. The offensive line won't be as dominant as it has been the last few years though. The defense remains solid especially on the line which has Jared Allen along with Pat and Kevin Williams. The Vikings would likely capture that bandwagon crowd online that may have been headed towards the Bears after they added Jay Cutler.
What do you think about Brett Favre potentially playing for the Vikings? How would it affect the competition in the NFC North and how much would it impact Madden 10?