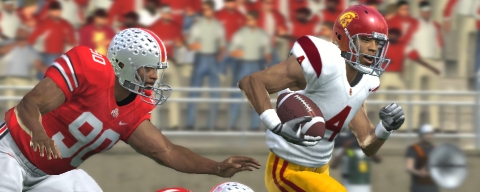 Over the last couple days there has been a great deal of talk around a lawsuit filed by former ASU and Nebraska QB Sam Keller. In the class action suit he claims that the NCAA and EA Sports profited off his name as they do all other collegiate football and basketball athletes in games such as NCAA Football and NCAA Basketball. He cites the players in the games as having the same number, representative player ratings, similar builds and accurate hometowns of the actual players.
Of course no one buys these games because of Sam Keller or any individual. Instead college sports are all about the schools. Certainly part of the appeal of playing with Florida is because of Tim Tebow but more so it is about playing as Florida. This is in stark contrast to jerseys that the colleges sell which don't have names on them but are selling based on the current players who wear them.
The lawsuit isn't likely to be successful but if it was there would be huge ramifications when it comes to college sports games. Players would have to be completely random and file sharing may be removed. That could potentially make the games not financially viable to even create as demand would drop significantly or at least there would be a decrease in the amount of money invested into them.
There isn't any reason to worry about this yet as there is a long way to go. But it will be interesting to follow and will definitely have an impact on just how realistic college sports titles can be.