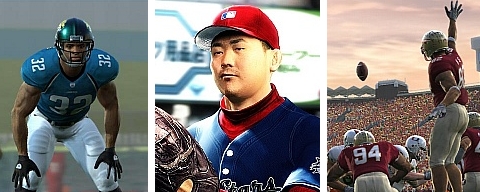 E3 is now just three weeks away! The gaming expo takes place on June 2nd-4th with some conferences (MS/Sony/Nintendo/EA?) happening on the 1st. This E3 is making an attempt to return to the glory days as opposed to the last couple years and the publishers are responding. EA Sports is expected to have some game related announcements including the new online modes for Madden 10 at this E3.
In the days leading up to E3 I'll have more details on what to expect both in terms of the games and coverage coming out of the event. I'll also provide the opportunity to send through some suggestions of things to look for. Below are the sports games that have been confirmed for E3.
Tiger Woods 10 (June 8th)
Grand Slam Tennis (June 8th)
The Bigs 2 (July 7th)
NCAA Football 10 (July 14th)
Madden 10 (August 14th)
There is the possibility that Backbreaker will be at E3 and that is one I'd be looking forward to seeing. It is somewhat a make-or-break opportunity for them so it'll be important for the game to be on display and playable (and not just the Tackle Alley mini-game). Fight Night Round 4 seems like an obvious one that will be there but hasn't been confirmed as of yet. The NBA 2K series has also appeared in some past E3s so 2K10 remains a slim possibility to appear as well.