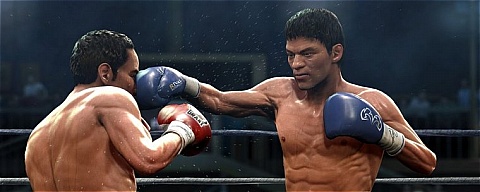 As you may already know I was fortunate to visit EA Canada in Vancouver, British Columbia to check out the next installment of the Fight Night series. Let us also remember that the boxing community has had to wait 3 years for the second game on next generation consoles since Fight Night Round 3 was released in February of 2006. It should also be noted that EA Canada took over development for this game and it appears to have been a good choice so far.
The first thing I noticed is how pretty the game is, and after playing FN3 the speed really seems to have been increased but not in a way that makes the game unrealistic. If anything after playing FN4 and going back to FN3 it makes the boxers seem as if they are stuck in concrete and that "invisible wall" is much more apparent than it was in 2006. These are only some of the things I noticed when finally getting to play the game.
It appears that very little made it from FN3 to FN4, to the extent even how the entrance walks to the way the boxers look when they get knocked down being all new. If you can recall there used to be a very unnatural look as they hit the canvas even though the knockout punch itself was visually awesome at the time (with multiple slow motion shots of it to remind your opponent). Everything in FN4 just seemed to flow better with the boxing having been sped up.
The real "star" of the show has to be the new physics engine. As I stated earlier there were invisible shields in FN3 and your punches no matter if they were to the head or body seemed to always hit the same place. Don't get me started on the haymaker system either which thankfully is not in FN4. It's impressive to see your opponent throw a punch at your dome and at the last second you get out of the way only to have the punch graze you in the shoulder or head. I had the best fight of my gaming career as I was using Thomas Hearns vs. Sugar Ray Leonard. Man, what a fight! It went the distance and I won the bout on points but it was fun to do that considering there were actually no knockdowns, just me trying to get inside and my opponent trying to do the opposite. Styles definitely make fights in FN4.
Some of the controls have also been revamped. Landing a haymaker is the most obvious change, as now you must toss a hook while holding the right bumper. Hooks to the body are thrown by flicking the right stick to the left or right and straight and jabs to the body are done by holding the left trigger, same as in FN3. Hooks, jabs, straights and uppercuts are all thrown the same way. Now though they have done away with being able to use buttons. I heard some complaints about that but I'm actually all for it because it was abused online in FN3.
The blocking system also received a face lift, as it's actually been made easier blocking high and low. Parrying has also been cut out and rightfully so as that was the biggest complaint I heard about FN3. This makes it more of a tactical battle as now you will have to look for any opening that your opponent may provide for you as gone are the days of a drained opponent sitting in front of you in his frozen state. It's all about timing and angles now and that is very apparent from the opening bell in FN4.
Even the in-between round sequence has been changed as now instead of rubbing your boxer's face, you'll be assigning points. One of three levels to three different sections. There's damage reduction, stamina replenishment, and health recovery. The previous round determines how many points you'll get when you're in your corner. I found this to be a great addition because really you just have to choose your strategy instead of rubbing one out as your trainer watches.
By the time you read this article you may already be enjoying the demo. There's also a lot more we'll be covering as EA lifts all embargoes on this highly anticipated release. I'll be covering Legacy Mode, Online, and REAL AI so stay tuned to pastapadre.com for all the latest info on Fight Night Round 4!
Thanks again to Moz for making the trip out and providing insight on the game! – PP