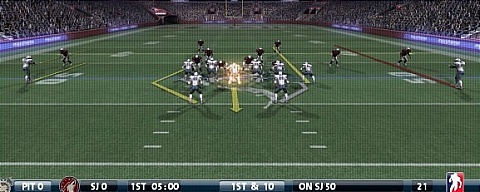 Backbreaker remains somewhat of an enigma. Announced over two years ago the game has been in something akin to a PR lockdown since. While the allure of dynamic tackles remains intriguing there has been little else shown from the game and general details have been scarce. Gamestop had put it up for presale on its website and it looked like a fall release for the game with Atari as the publisher, only to pull the listing a few days later putting those things back in doubt.
Earlier today two new screenshots were released for the game. These are the first that really show off what it will look like during gameplay as they display pre-snap alignment and assignments. Click the thumbnails below to view full size.
E3 looms large for Backbreaker. If the game is on display and fully playable (not just the Tackle Alley demonstration) then there could be justification for anticipating it. If it isn't then questioning of the legitimacy of the game will continue.
I've always been open to and enjoyed arcade style games, and Backbreaker appears to be straddling the line between arcade and sim along with the futuristic feel, glowing football, and glowing user controlled player. There is a place in the market for unique takes on the sports as long as they have the fundamentals down and ultimately are fun. Hopefully there will be a breakthrough coming from Backbreaker now that E3 is on the horizon less than two weeks out.