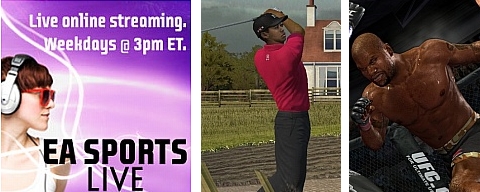 To provide some advance notice I wanted to mention I'll be on EA Sports Live tomorrow (Friday). In what will become a weekly segment I'll be making an appearance to discuss news from the sports gaming world. Tomorrow expect a good deal of talk about UFC 2009 Undisputed as the release and response to the game has been in the spotlight this week.
To listen to the show at 3pm ET / noon PT click here. I'll be sure to drop a reminder on Twitter prior to the show as well.
Update: Won't be talking UFC or Tiger, instead it'll be more of an introduction and then in future weeks will discuss the gaming news.