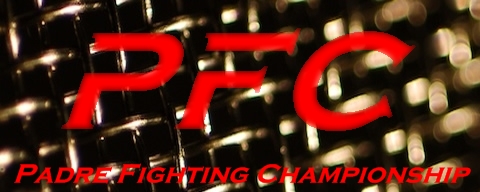 Jerkfacefave has gone through and completed the fighter assignments as well as the complete lineup card for PFC 1: Proving Ground. There are title fights for each weight class and #1 contender fights for the right to face the champion at PFC 2. There are also numerous undercard fights to start building records and reputation. Continue on to check out the full roster and PFC 1 card.
PFC 1: Proving Ground

Gabrial Gonzaga (Jazz Trance) VS Antonio Rodrigo Nogueira (im winnin)
#1 Contender Fight
Cain Velasquez (FredSmooth21) VS Brock Lesnar (Sonofsparta300)


Wanderlei Silva (TG Gypsy Kitty) VS Keith Jardine (RKW3)
#1 Contender Fight
Wilson Gouevia (JerkFaceFave) VS Lyoto Machida (PastaPadre)

Michael Bisping (xix hustle xix) VS Yushin Okami (IM GUTTAH TRICK)
#1 Contender Fight
Chris Leben (Redhawk360) VS Anderson Silva (Daboss1026)

Chris Lytle (MVP023) VS Mike Swick (DarthObvious)
#1 Contender Fight
Georges St-Pierre (Bleednornge72) VS Karo Parisyan (Cha0s11)

Tyson Griffin (Dr Logic) VS Nathan Diaz (AhoyItsThom)
#1 Contender Fight
Gray Maynard (McK Hick) VS Kenny Florian (King of K1ngs)
Undercard Fights
Cheick Kongo (BWIGGZ) VS Tim Sylvia (Jmo31)
Andrei Arlovski (Jonb95825) VS Mirko Crocop (EdNick30)
Quinton "Rampage" Jackson (TheFuture15) VS Rashad Evans (ML2ABKJ19CP26)
Brandon Vera (chad182) VS Chuck Liddell (WILLIAMF 30)
Dan Henderson (WifeHateXbox) VS Nate Marquardt (Bee Rockwell)
Rich Franklin (ErnieDavis4444) VS Thales Leites (K alvary)
Matt Hughes (GmanDC31) VS Josh Koscheck (EMSfan9)
Thiago Alves (StetskaBombe) VS (Jon Fitch-CThrash1)
BJ Penn (LimeadeLover45) VS (Roger Huerta-BLACKFLAGZ10)
Sean Sherk (HotRod9228) VS Diego Sanchez (MagnerUnlimited)
Fights must be completed by the end of Sunday May 31st. Results will be posted in the forum results thread along with any recaps. I will be compiling the news for each event to then post up on the site along with the card for the next event.
Roster
Heavyweights:
Antonio Rodrigo Nogueira-im winnin
Brock Lesnar-Sonofsparta300
Frank Mir-ptwaugh
Brandon Vera (LH)-chad182
Gabriel Gonzaga-Jazz Trance
Cain Velasquez-FredSmooth
Cheick Kongo-BWIGGZ
Eddie Sanchez
Heath Herring
Andrei Arlovski-Jonb95825
Mirko Crocop-EdNick30
Fabricio Werdum
Tim Sylvia-Jmo31
Mark Coleman
Antoni Hardonk
Justin McCully
Light Heavyweights:
Chuck Liddell-WILLIAMF 30
Quinton "Rampage" Jackson-TheFuture15
Forrest Griffin-OhTheBagger
Tito Ortiz-McK Hick
Keith Jardine-RKW3
Wanderlei Silva-TG Gypsy Kitty
Mauricio "Shogun" Rua-FredSmooth
Lyoto Machida-PastaPadre
Rashad Evans-ML2ABKJ19CP26
Stephan Bonnar
James Irvin
Wilson Gouveia (MW)-JerkFaceFave
Houston Alexander
Kazuhiro Nakamura
Thiago Silva
Tim Boetsch
Middleweights:
Anderson Silva (LH)-Daboss1026
Rich Franklin (LH)-ErnieDavis4444
Dan Henderson (LH)-WifeHateXbox
Michael Bisping (LH)-xix hustle xix
Kendall Grove
Chris Leben-Redhawk360
Jason MacDonald
Nate Marquardt-Bee Rockwell
Drew McFedries
Ricardo Almeida
Evan Tanner
Yushin Okami-IM GUTTAH TRICK
Demian Maia
Martin Kampmann (WW)
Amir Sadollah (WW)
Thales Leites-K alvary
Welterweights:
Georges St-Pierre-Bleednornge72
Matt Hughes-GmanDC31
Matt Sera (LW)
Jon Fitch-CThrash1
Karo Parisyan-Cha0s11
Josh Koscheck-EMSfan9
Diego Sanchez (LW)-MagnerUnlimited
Mike Swick (MW)-DarthObvious
Marcus Davis
Thiago Alves-StetskaBombe
Chris Lytle-MVP023
Ben Saunders
Josh Burkman
Kyle Bradley
Matt Arroyo
Anthony Johnson
Lightweights:
BJ Penn (WW)-LimeadeLover45
Sean Sherk (WW)-HotRod9228
Kenny Florian-King of K1ngs
Roger Huerta-BLACKFLAGZ10
Joe Stevenson
Mac Danzig
Nathan Diaz-AhoyItsThom
Spencer Fisher
Tyson Griffin-Dr Logic
Gray Maynard
Thiago Tavares
Joe Lauzon
Rich Clementi
Mark Bocek
Hermes Franca
Frank Edgar
Sign-ups now result in first come, first serve for fighter assignments in the PFC forum. The roster listing will be continuously updated as changes are made.