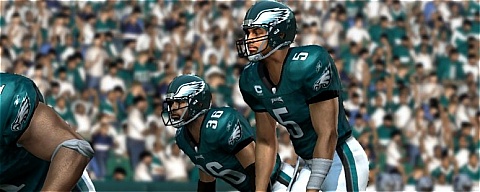 While at E3 I was able to grab the team overall ratings for Madden 10. I also have access to the player ratings. These may not necessarily be final however they will provide at the very least a good idea of what to expect. A while back Donny Moore stated that the Pats, Steelers, and Eagles were the top three teams however in this build the Giants have overtaken the Eagles.
Continue on to check out the team ratings. Leave any requests for specific player ratings in the comments and I'll reply there. Please limit it to no more than two players per comment. Users with Intense Debate comment accounts or utilizing Facebook Connect will receive priority in response.
Update: EA has requested I take the ratings down.
New England Patriots 93
Pittsburgh Steelers 92
New York Giants 89
Philadelphia Eagles 88
San Diego Chargers 88
Tennessee Titans 87
Indianapolis Colts 87
Arizona Cardinals 86
Dallas Cowboys 85
Carolina Panthers 83
Baltimore Ravens 82
Atlanta Falcons 81
Minnesota Vikings 80
Washington Redskins 79
Chicago Bears 79
Buffalo Bills 78
New York Jets 78
Green Bay Packers 78
Seattle Seahawks 77
Miami Dolphins 77
Houston Texans 75
New Orleans Saints 74
Tampa Bay Buccaneers 74
San Francisco 49ers 73
Jacksonville Jaguars 71
Oakland Raiders 71
Denver Broncos 70
Kansas City Chiefs 69
Cleveland Browns 68
Cincinnati Bengals 67
St. Louis Rams 66
Detroit Lions 65