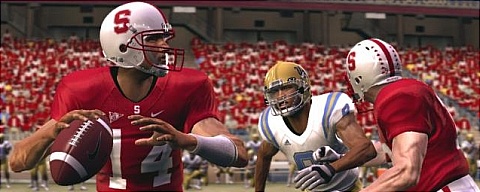 While at E3 I was satisfied after my time with NCAA Football 10. You can read back through my impressions if you haven't already, but basically the game has a similar feel but with numerous additions and improvements from last year that become more evident the more it is played. Unfortunately after I got back all that was soon overshadowed by news of the rosters being in terrible shape and the DLC "boosts" for dynasty that would also affect Online Franchise.
First on the topic of the rosters the NCAA team has been working to find a solution. While there are no specifics at this time on how that will be done, after a series of comments including one on Twitter today it sounds as though they are going to be able to come up with a way to fix the rosters. I can't imagine they would be making these comments unless they were confident in the ability to do so. Hopefully that can be completed without losing all the teams that have been built through Teambuilder this month.
While that was somewhat a given I was even more encouraged by the reference to the downloadable content issue. Producer Jeremy Strauser mentioned this in his message to me on Twitter: "NCAA team working on a patch so that DLC can be deactivated in Online Dynasty". That would pretty much eliminate the reasoning behind being upset about that DLC. If you can imagine last year people would argue over the legitimacy of restarts. Having the cheats activated in online dynasties and no way to prevent them would surely have led to accusations, potentially spoiling the enjoyment since no one would know for sure of the validity of their dynasty.
If they can get both these issues fixed by release I think that would show a commitment to the community that maybe has been lacking in the past. So this is good news and hopefully we'll hear that both come to fruition in the near future.