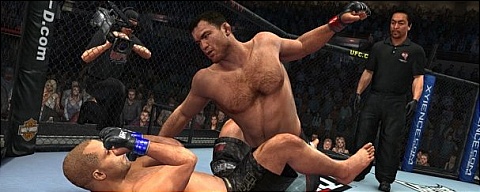 One of the intriguing stories leading up to and through the release of UFC 2009 Undisputed was how the fighters were being forced into lifetime contracts. Now comes news that the UFC may be taking things even further by intimidating fighters who are not currently signed by them by making it known that they will never be accepted into the UFC should they sign on for EA Sports' MMA. BloodyElbow has the info as pulled from forum sources.
I hear that all mma managers were informed that if any of their clients not currently under contract with the UFC….. sign to be a part of the EA game…….the will forever be banned for fighting in the UFC.
When it comes down to it if a fighter has the potential to make the UFC money they'd surely take them on regardless. Who this really will affect are those guys who are on the brink or would be competing for a spot. If they feel it would hurt their chances than it very possibly could sway them from deciding to go over with EA. This does add to the struggle that EA is facing with their MMA title which will not be able to put together a roster nearly as enticing as what UFC will have every year.