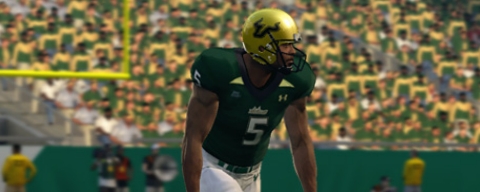 I have been informed that a copy of NCAA Football 10 may be arriving today (update: I have a PS3 version on hand). Coverage will begin tomorrow if that is the case but likely won't be anywhere near as comprehensive as usual in these situations. I have limited time this weekend and then will be out of town all next week. There are also certain restrictions that have been placed on what can be covered. No videos or formal impressions of the game are allowed until early next week, so I'll try to prepare some of those in advance for posting come that time.
Here are some requests you can make in the comments. I will try to respond to as many as possible but please understand that the opportunity I have to dig into the game is limited and I won't be able to get to everything.
Questions or thoughts about specific aspects of the game. I can answer them I just can't put them all together for a formal write-up.
Screenshots. If you have a specific player, team, or would like me to download your Teambuilder creation and take a screenshot with them that is a possibility.
Priority will be given to comments made with Intense Debate accounts, Facebook Connect, or Twitter. I will also get into Road to Glory some, try out online play, and download some Teambuilder creations including my own to test out. Make sure to follow me on Twitter where I'm dropping some notes as I play before I post those and a lot more up on the site.