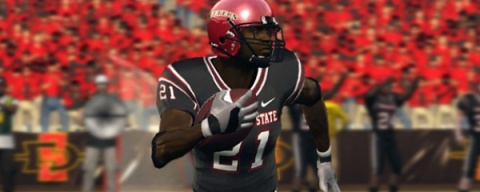 We now have the names of the EA Lockers that contain the "fixed" rosters for NCAA Football 10. The rosters that shipped with the game were incomplete. Some teams had no or very few freshman and there were also players still around who had graduated and moved on. These rosters are simply the "fixed" rosters in that they are what should have gone out with the final version of the game. They are not the named rosters. It may be the weekend before anyone completes a fully named roster set. While these rosters apparently are still riddled with inaccuracies at least the set should be fixed in structure.
To get the "fixed" rosters search for the following EA Locker names:
The upcoming patch will include fixed rosters so as to be accessed for online play along with the ability to block DLC cheats in Online Dynasty. That patch has been in the certification process so it should be out within the next week or so. Unfortunately it doesn't look like there will be any solution on the Teambuilder end and those flawed rosters will have to be carried in by the created teams.
Update 7/18: You can now grab a named roster out of my EA Locker. Search pastapadre on either the 360 or PS3 to download them.