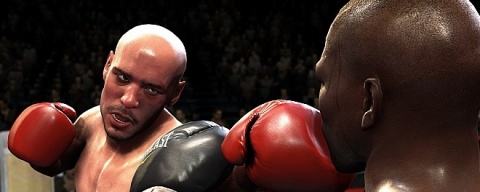 Fight Night has proven one of the few sports franchises that has mainstream appeal. Fight Night Round 3 represented the second strongest franchise in US sales for EA Sports behind only Madden. After taking a few years off Fight Night Round 4 came out last month though it was difficult to judge the buzz around the game. Discussion online primarily centered around the controversial decision to remove the optional button control scheme and UFC 2009 Undisputed had released to high praise.
We now have the official sales numbers for FNR4 from NPD and can look at what it means for the franchise.
Comparing numbers to the previous iteration with Fight Night isn't as simple as it is with franchises that have been releasing on a yearly basis. FNR3 released just a couple of months after the 360 came out and had to wait until the end of that year to be a launch title on the PS3. While the 360 was somewhat supply strained at the time it was a game that was used to promote "next-gen" and came out in a relatively dead period for releases. Now there is some strong competition from UFC to contend with.
So because of those variables it wouldn't make much sense to go into analysis on the growth from 3 to 4. It would be reasonable to expect FNR4 to show an increase in sales but how large for it to be a positive indication would've proven difficult to judge. As a sequel there is always that guaranteed fan base and the potential to build on it especially given how highly regarded FNR3 was. Less than strong numbers would show a weakness for the series in future years.
With the official numbers out the news for FNR4 is not good. The game sold a solid but far from spectacular 260,800 on the 360 and 210,300 on the PS3 for a combined 471,100 sold in June. That number falls far short of even what NCAA Football has been opening at the last few years.
The most embarrassing part of all this has to be that UFC 2009 Undisputed outsold Fight Night for the month on the 360 and in total. Yes, UFC's second month outsold Fight Night's first. I don't think anyone would ever have predicted that. UFC 2009 Undisputed sold 1.14 million combined in its first month and that was the first game in the series which makes the numbers that much more astonishing. The total for the second month is estimated at just over 500,000 with the 360 accounting for 338K of that.
So what could have been the reason for the disappointing sales of Fight Night Round 4? Certainly the bad buzz generated from the removal of the button control scheme has to be considered. That dominated discussion about the game prior to release. However the main factor has to be the competition from UFC. Sure they are different sports but most consumers, including myself, view them as fighting games and that made it less likely that they would pick up both of them.
With the UFC gaining in popularity and boxing continuing its decline it is not a surprise that UFC would take over as the top licensed simulation fighting game. What does make for a surprise is that it happened on the first go round and in such a dominant way.