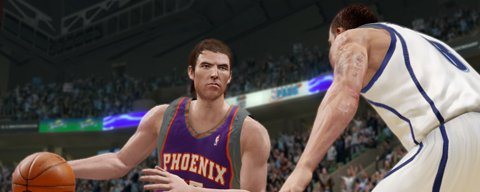 The launch of the NBA Live 10 website also brought about a page describing some of the features in the game. Of the items listed only one is actually new. At this point it is probably safe to assume that they are holding back on describing the larger improvements or additions after the events of last year proved why holding off can sometimes be necessary. However it also could signal strong attention to gameplay enhancements rather than adding features. The strength of the 09 was its wide feature set so the need to expand on that isn't great, and the developers have hinted at gameplay being the central focus for 10.
Dynamic DNA- Player and team updates based on real-world performance are transferred in-game every day. Current trades, injuries, player tendencies, streaks, and more provide the most up-to-date experience every time you hit the court.
Pick & Roll Control- Take control over both the ball handler and the screener, as you execute this fundamental two man play. Select who sets the screen, and choose whether the screener slips or rolls towards the hoop then hit them with the perfect pass or make your move.
Play in a Playoff Atmosphere- Play in a Playoff Atmosphere—Feel the emotion and intensity grow as players, crowds, and bench react to every dramatic situation. The electricity inside the arena intensifies dynamically based on rivalry games, time of year, and what's on the line.
5 vs 5 Online Team Play- All 10 ballers on the court can now be controlled by users on 10 different consoles around the world. Now the game outcome can be completely dependent on how you play as an online squad.
Create your own highlight mix then upload the video to EASPORTS.com to show off your baller skills.
Player's Court- Test out your moves with the best NBA players in new, cutting edge basketball facility.
Although the majority of these features are ones that return from last year they are all expected to have improvements within them. It'll especially be interesting to see what has been done to expand on the popular DNA feature. One common request was for the inclusion of defensive tendencies.