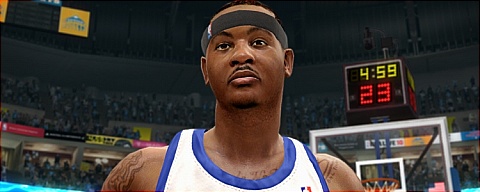 A new posting has gone up on the Inside EA Blog detailing some of the visual enhancements in NBA Live 10. Several screenshots of Carmelo Anthony are featured to show off the work that has been done in areas such as player likenesses, accurate tattoos, shoes, and uniforms. There is also a look at the new gym "The Hanger" that will replace the one from last year that was used for shooting around and the NBA Academy. You can check out the full article and screens here.
For the visuals, things like updating tattoos; to having the freshest player exclusive shoes in the game was a must. We're also bringing back a grip of NBA throwback and holiday/cultural jerseys. It may not seem like a big deal to some people when a guy like LeBron is missing some tattoos and his away color signature Nikes, but to our core audience this isn't authentic. It breaks the reality of sim sports titles when details like that are missed… not this year.
I wasn't thrilled with the first set of screenshots that went out, there was just an awkward sense about them. But since then the trailer and these images have turned that initial feeling around.