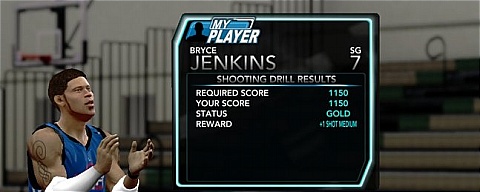 Three weeks ago the news broke on a downloadable offering from 2K Sports that would have a connection with NBA 2K10. Today details on NBA 2K10 Draft Combine came to light along with some screenshots. Releasing in September, several weeks before the actual game, it will go for $5 and will be available download only through the PSN Store and XBL Marketplace (where it is the equivalent 400 MS points). The Draft Combine appears to be a jump-start for the single-player career mode and will supposedly provide an advantage for those who buy it as opposed to the ones starting up the mode fresh from the full 2K10. You can check out the screenshot gallery for 11 new images.
This is probably a smart move on 2K's part. Similar to what EA did with Teambuilder for NCAA Football 10, this will capture some consumers who will then certainly purchase the full game. The price is definitely reasonable but the concept behind what the mode offers will likely just appeal to the hardcore fans who will be buying the game regardless. In a way it may have more value as a demo of what is to come which could draw some others in to download it. No word if this means 2K won't be releasing a traditional prerelease demo. Continue on for the list of features associated with NBA 2K10 Draft Combine.
Building custom players by working with a mentor, the 2K Insider, and increasing their NBA stock through a variety of challenging basketball drills and 5-on-5 games.
Over 300 different signature customizations, including player-specific shooting animations, dunk and dribble packages and more to allow each created player to have his own unique personal style.
Ability to strengthen all parts of the created player's game with a variety of drills, such as shooting, post offense and defense, attacking the basket, dribbling, challenging shots, boxing out for rebounds and more to progress through the NBA Draft Combine.
Organized games that will allow players to gain valuable skill points and offer a variety of specific in-game objectives that will need to be accomplished in order to gain them. At the end of each game, a full analysis will be available for gamers to review their player's performance and strategize their further improvement.
All players created in NBA 2K10: Draft Combine will wear a special patch on their uniform throughout the rest of that player's career to denote that they have completed the NBA Draft Combine.
Online leaderboards to track the highest ranking custom built players, and where a player stacks up against the competition.
Opportunity to unlock special achievements on Xbox 360 and trophies for PLAYSTATION 3 system.
Fans can take their custom built players from NBA 2K10: Draft Combine and use them in the all-new My Player career mode in NBA 2K10 launching this fall, allowing them to continue their journey of becoming an NBA legend.