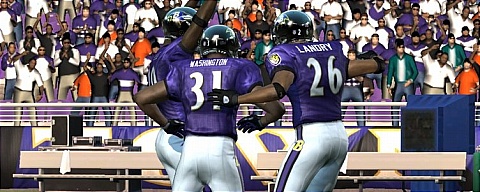 As always it is a difficult process to arrange a community based initiative or event. There is a huge amount of interest which is great, but it also inevitably means I won't be able to involve everyone who wants to be. Thanks to the people who took the time to sign-up in the forum for consideration for the Pastapadre Madden 10 Online Franchise. Continue on to check out the roster of owners, waiting list, and some basic details of the league.
NFC East
Philadelphia Eagles – DavePSU
Dallas Cowboys – Moz
Washington Redskins – RJMdeuce79
New York Giants – Xtremedunkz
NFC North
Minnesota Vikings – Jerkfacefave
Green Bay Packers – Smoke316
Detroit Lions – Tm1ca15uf
Chicago Bears – Fred
NFC West
St. Louis Rams – C Dawg504
San Francisco 49ers – Bengalsfan2001
Seattle Seahawks – July 4 1776
Arizona Cardinals – Mondstrocity
NFC South
Tampa Bay Buccaneers – BonesMahoney
New Orleans Saints – Samuel7467
Atlanta Falcons – Onustees
Carolina Panthers – Hector831
AFC South
Indianapolis Colts – BME
Tennessee Titans – Nix
Houston Texans – Pastapadre
Jacksonville Jaguars – ShopCartRicky
AFC East
Buffalo Bills – Jonb95825
New England Patriots – CoreySA
New York Jets – Tristate Killa
Miami Dolphins – Details
AFC North
Baltimore Ravens – B_Wigglez
Pittsburgh Steelers – JRC865
Cleveland Browns – LVradio
Cincinnati Bengals – AzureEffect
AFC West
Oakland Raiders – Terrorblaze
San Diego Chargers – MassMovement
Denver Broncos – Jahftb
Kansas City Chiefs – Doubleot
Details
Settings will be on All-Pro difficulty with either 8 or 9 minute quarters utilizing accelerated clock. If accelerated clock is not an option then quarters will be either 6 or 7 minutes. The franchise will advance every Saturday and Wednesday night. So one "week" of games will be completed within the Sunday-Wednesday night frame, and the next "week" is done in the Thursday-Saturday night frame. Anyone who is not actively communicating on the forums will be at risk of replacement. All trades must be approved by the commissioner or could be struck down if 20 of the 32 owners vote against it.  The structure for how to handle free agency has not yet been determined. The franchise will be set up immediately after game release, with week one of the season opening on Wednesday August 19th.
Updates on the franchise will be posted about on the website and will also take advantage of as as-of-yet unannounced website feature here that is currently being constructed.
Waiting List
For those who didn't make this initial list of owners don't lose hope. I fully expect there to be a couple new people in by the start of week one. It is likely due to whatever reasons that a few of the current owners will drop out by then.
The waiting list will work as follows. Any time an opening comes arises I will post about it in the forum. After a few hours or up through the end of that day there will be the opportunity to express interest in the thread. If one of those people is from the list original signups below they will be chosen. If not I will look at various factors in making the decision.
Cmh9552, Tactical777, The Truth, lilewhit, jimmyy201, jfleming40, speed914, Sober Hobo, zrath55, K alvary, jnesses, UFCDJD2009, aiksmithirvin, Perry8331, ionlygotonearm, dmcnabb5, T Share 18, BustyBuffet, JohnsThaKing, Jmo31, Michael1807, Bengalsfan2001