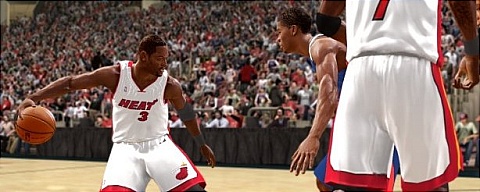 The last couple of days have brought about a flurry of NBA Live 10 blogs and videos. Not only do they provide new information and clarity on previously announced enhancements but there are also side-by-side comparisons to 09 that display the stark differences between the two iterations.
Following up on the Hustle Plays earlier in the week comes a look at the dribble moves being referred to as "Size Ups". There are a couple of videos here to show off the (in some cases) player specific size ups. Check out the blog posting and videos here.
There is a new visual-centric blog that focuses on the changes to body types, uniforms, accessories and more. This one features screenshot comparisons from 09 to 10 to accentuate the changes. You can check out that blog posting here.
Slam Online has a video which is centered on uniforms, sneakers, tattoos, and signature pre-game rituals. You can watch that here.
Live seems to be doing a good job of showing and explaining these enhancements to the game before they even roll into their new features. Leave your thoughts on all the blogs and videos in the comments!