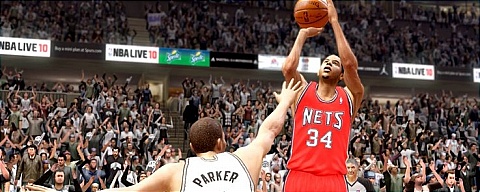 Gamespot has posted up a full preview of NBA Live 10 that focuses on player ratings and Dynamic DNA. Different gameplay elements such as changes to controls are also discussed. You can check the preview out here.
According to producers, the NBA Live team barely scratched the surface of what Dynamic DNA could do with NBA Live 09. This time around, the data being pulled into the game has been expanded–with more categories of stats being used–and that data will surface in the game in a slightly different way. Most importantly to me, though, is the process of how the Live team is handling their player ratings.
Other sites have posted up hands-on impressions based on receiving the demo early. The demo includes the Magic @ Lakers in an NBA Finals game with two four minute quarters. Among those sites offering thoughts on the demo are Operation Sports, GCHD, and GameZone. Its somewhat difficult to get a feel for the game from those however considering the restricted conditions.