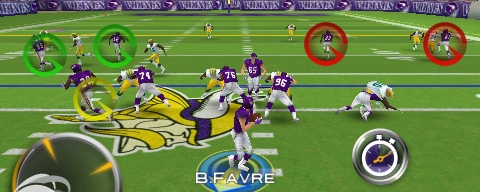 Until today not much was known about Madden 10 for the iPhone other than it was expected to release in September. EA Sports has now sent out details on the game as well as the first screenshots. Madden 10 should arrive in the App Store before the start of the NFL season. Noticeably absent from the info though is a price so it'll be interesting to see what that turns out to be. You can check out a few screenshots in the gallery.
Two of the screens feature Brett Favre and Michael Vick. From that it can be gathered that the rosters are pretty well up-to-date. Generally any secondary platforms for sports games end up getting a short end of the stick including extremely dated rosters. So at least this is a good sign that more effort may have gone into the final product.
Continue on to check out the feature list for the game. Do you have an iPhone and are considering purchasing Madden 10 for it? How well do you think a football gaming experience can be on an iPhone? Leave your thoughts in the comments.

ACCEPT NO IMITATIONS ─ only EA SPORTS™ delivers the most authentic, hard-hitting experience in football, and we've got the history to back it up.
Combining the realistic action that Madden NFL fans expect with the mobile gameplay that allows anyone to pick-up and play – Madden NFL 10 brings the ultimate football experience to the App Store.
TAKE IT TO THE GRIDIRON ─ Dominate the field with packed rosters of your favorite NFL players from all 32 licensed teams.
THE REAL DEAL ─ From Lambeau to Heinz, you'll be impressed by the detail throughout this game. Play in authentic stadiums against life-like players on real NFL teams.
CREATE YOUR OWN PLAY ─ Use touch controls to draw hot routes for passing plays, exclusive to Madden NFL 10.
ACTION CONTROL TIME ─ This cool feature lets you adjust the speed of your game whenever you want, giving you time to pick the best moves for each play.
SEASON MODE ─ Play a quick one-off game, or try the robust season mode, which features in-depth trades, stats and individual player rewards.
ASSEMBLE YOUR OWN TEAMS ─ Detailed roster management gives you full control over depth charts, cross-team trading, and access to huge free agent pools.
BROADCAST COMMENTARY ─ Hear the unmistakable voice of John Madden himself along with legendary announcers Tom Hammond and Cris Collinsworth.