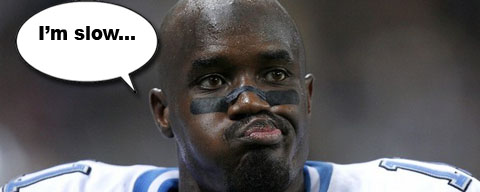 Well, you didn't think that T.J. Houshmandzadeh would be the only player to publicly complain about his Madden '10 rating did you?  Of course you didn't. Not when we colorful players out there like Chad Ochocinco, T.O. and Roy Williams.
Williams is the latest NFL player to complain about his ratings in Madden. In an interview with the San Antonio Express-News', Williams had this to say:
"I opened up the Madden today, and I'm pretty (mad) about that game," Williams said. "They've got me at an 86 (out of 100) speed, 87 hands and like 84 overall or something like that.

"I can't be mad because I didn't have a good year last year. They go off that year, but geez Louise, 86 speed? That's like tight-end speed, like I'm a slowpoke."
I have to admit, he does have a point. I'm not sure why his speed rating dropped so much either. Maybe the guys at EA got him confused with ex-Cowboy safety, Roy Williams? He was rated an 86 in speed last season. Or maybe they thought he was Mike Williams? Or maybe he just can't shake the stench of the Detroit Lions off him.
Chin up Roy, you are still faster than the tight ends on the Cowboys. And he scores points with me for using the phrase "geez Louise".